Takla First Nation joins BCUOMA as a permanent collection facility
•

RCF Program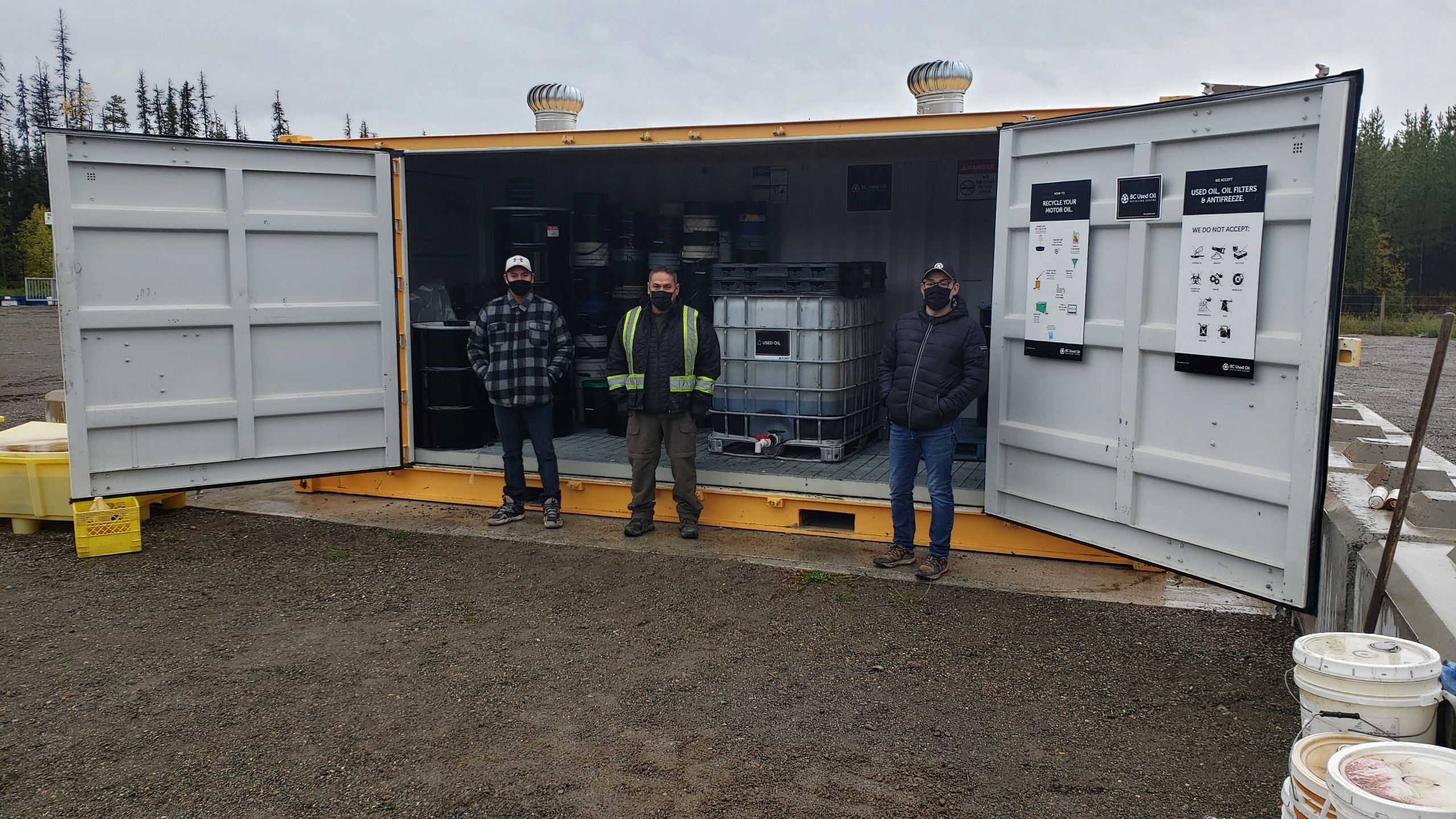 BCUOMA staff recently travelled to the remote Takla Landing to help establish a new recycling collection facility to facilitate the responsible collection and management of used oil, antifreeze, filters and containers in the community.
Through a collaborative effort, more than 1,200 litres of used oil, used oil filters, empty oil pails and lids were transferred to a secure 20-foot modified sea container. This "seacan" will help the Takla Landing staff ensure used oil materials are safely collected, stored and managed.
"Takla First Nation's council requested assistance from BC Used Oil Management Association to assess their current used oil recycling program, and implement a new system that included on-site training to ensure future used oil materials are responsibly collected, safely stored, and free of contamination," said David Lawes, CEO, BC Used Oil Management Association. "BCUOMA also helped them set up their new RCF infrastructure, which included used oil storage containers, funnels, and detailed recycling signage."
Takla First Nation use a backup diesel-powered generator to supply electricity to their community when they lose power, and they needed the ability to safely collect and store their accumulated used oil materials. They also continue to collect program materials from within the community, and clean up used oil and hazardous materials left by outside businesses working in their territory in the past.
"Takla First Nation has been proactive in moving forward in creating a sustainable, environmentally-friendly, and healthy community," said Ernie French-Downey, Public Works Manager, Takla First Nation, and Indigenous Zero Waste Technical Advisory Group (IZWTAG) Board Member. "We understand the importance of creating a coordinated used oil recycling system, and permanent recycling infrastructure in order to safely collect and contain our used oil materials. This cleanup effort by our team and BCUOMA was a huge success!"
The new Takla First Nation Return Collection Facility (RCF) is located at 144 Bah'lats Rd., Takla Landing in the Central Interior of British Columbia on the eastern shore of Takla Lake – approximately 320 km north of Prince George.
For more information on the Takla Lake First Nation visit https://www.taklafn.ca/