Pender Island receives new recycling centre for used oil and antifreeze materials
•

News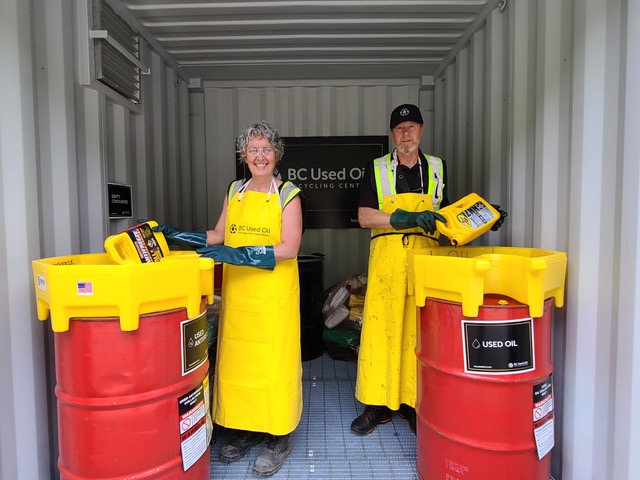 Pender Island Recycling Society ("PIRS") received a grant from BCUOMA that provided the Pender Island Recycling Depot, located at 4400 Otter Bay Road, Pender Island,  with a new 10 foot modified sea container to responsibly collect, manage and store used oil and antifreeze materials. 
"Over 30 years ago, a group of dedicated Pender Islanders converted what was soon to be a garbage transfer site to a recycling depot. This group of environmentally passionate locals had a vision to improve the recycling operation, and today, they are busier than ever," said David Lawes, CEO, BC Used Oil Management Association.
"As the population of Pender Island continued to grow with full-time residents and seasonal visitors, the Pender Island Recycling Society understood that a dedicated used oil and antifreeze collection depot was necessary. They reached out to BC Used Oil Management Association for a grant to assist them in procuring the collection and storage infrastructure for the used oil and antifreeze. This is a true testament to how committed to the environment the team is at the Pender Island Recycling Society, and their aim to reduce, reuse and recycle."
BCUOMA's infrastructure grant program provides businesses with the infrastructure required to responsibly handle, collect, and store used oil and antifreeze materials using economic, efficient, and environmentally acceptable options. Municipalities, private businesses, nonprofit organizations, and other sectors interested in a BCUOMA infrastructure grant can find out more information at https://interchangerecycling.com/infrastructure-grants/.
"BC Used Oil Management Association continues to look for opportunities to upgrade used oil recycling centres and develop additional facilities across the province for British Columbians to return their used oil and antifreeze products conveniently, safely and at no cost," said Lawes.
Used oil is a valuable resource and if it is recycled at one of BCUOMA's dedicated public recycling centres it can be recovered and re-used. Used oil can be re-refined into new lubricating oil or material inputs for manufacturing or energy products. Additionally, used oil filters contain metal, which is recycled into metal products like rebar, nails, and wire. Used oil and antifreeze containers are recycled and used to manufacture new oil containers, drainage tiles, and parking curbs. Used antifreeze is refined and reused as new automotive antifreeze. A comprehensive listing of all the public recycling centres across B.C. can be found at https://interchangerecycling.com/find-a-recycling-centre.
BCUOMA would like to acknowledge that the Pender Island Recycling Society in Pender Island is located on the traditional territory of the Coast Salish peoples.
For more information on Pender Island Recycling Society visit https://www.penderislandrecycling.com/home.