Elkford receives upgraded used oil recycling depot
•

RCF Program
We are happy to share that the Regional District of East Kootenay ("RDEK") received a grant from BCUOMA that provided the Elkford Transfer Station with three additional storage tanks to be used for the responsible collection and storage of returned used oil and antifreeze materials. Elkford Depot is located at 6 Inkaneep Road, Elkford, B.C.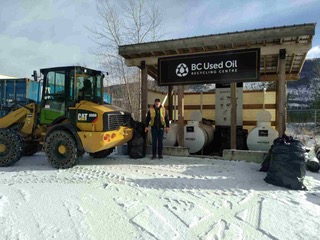 "The residents of Elkford and the surrounding area have done a great job of returning their used oil to the Elkford Transfer Station, where it is collected, and then transferred to a processing facility to be recycled. As Elkford's population grows, RDEK understands the need to continue to expand their recycling infrastructure to ensure this responsible handling of used oil and antifreeze materials," said David Lawes, CEO, BC Used Oil Management Association. "The Elkford Transfer Station's used oil recycling depot also continues to be free, easy to use, and conveniently located."
BCUOMA continues to look for opportunities to upgrade and improve recycling facility locations across the province to provide British Columbians with reasonable access to convenient and free used oil recycling centres. BCUOMA's infrastructure grant program requires the responsible environmental handling, collection, transportation, storage, processing and recycling of used oil and antifreeze material using economic, efficient, and environmentally acceptable options. Municipalities, private businesses, nonprofit organizations, and other sectors interested in a BCUOMA infrastructure grant can find out more information at https://interchangerecycling.com/infrastructure-grants/.
BCUOMA would like to acknowledge that the Elkford Depot is located on the traditional territory of the Ktunaxa Nation.
For more information on the Elkford Transfer Station visit https://www.rdek.bc.ca.