Creston RCF gets an Upgrade
•

RCF Program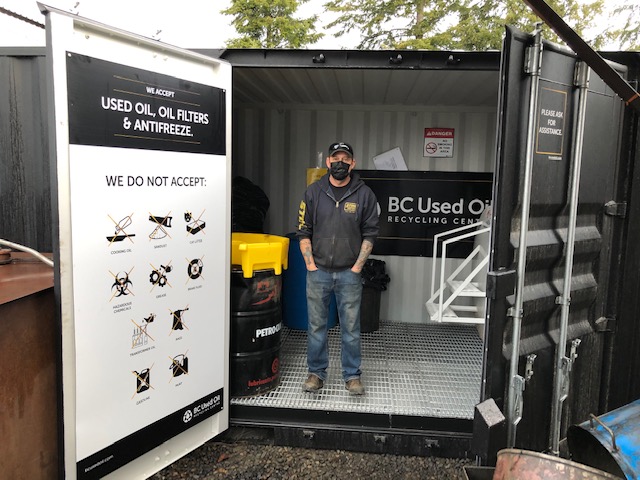 We are excited to announce that Comfort Welding—a longstanding Return Collection Facility (RCF) location in Creston—recently received a grant to replace outdated collection infrastructure at its facility with a brand new 20-foot modified sea container and a 2,200-litre tank. This updated used oil recycling facility will provide the residents of Creston and the surrounding areas with an easy, free and eco-friendly system to return their used oil and antifreeze materials.
"Since 2004, Comfort Welding has provided its customers with a used oil and antifreeze recycling facility and it continues to make changes and improvements to ensure DIY consumers have a convenient and eco-responsible infrastructure to recycle their materials," said David Lawes, CEO, BC Used Oil Management Association. "It is a pleasure to work with businesses like Comfort Welding that understand what the recycling needs are within its community, and are committed to creating sustainable solutions."
"When Ron Comfort started Comfort Welding over 40 years ago he didn't hesitate in taking risks, and making sure that the business had the products and services that our customers wanted," said Gerry Storm, Comfort Welding co-owner. "To this day, we continue to go out of our way to offer our customers a diverse selection of items and services. Having a full-time used oil and antifreeze recycling facility on our property makes sense, and upgrading it was an easy decision to make. Our customers are happy and we know that the used oil materials are being collected in a safe and responsible manner."
BCUOMA continues to look for opportunities to upgrade and improve recycling facility locations across the province in order to provide British Columbians with reasonable access to convenient and free used oil recycling centres. BCUOMA's RCF infrastructure grant program requires the responsible environmental handling, collection, transportation, storage, processing and recycling of used oil and antifreeze material using economic, efficient and environmentally acceptable options. Municipalities, private businesses, nonprofit organizations, and other sectors interested in BCUOMA's RCF new infrastructure grants can find out more information at https://interchangerecycling.com/infrastructure-grants.
For more information on Comfort Welding visit https://comfortwelding.com.