Annual Report
Who are we?
The British Columbia Used Oil Management Association (BCUOMA) is a not-for-profit society that operates a province-wide collection and recycling program dedicated to collecting and recycling lubricating oil, oil filters, oil containers, antifreeze and antifreeze containers from both the do-it-yourself market as well as the commercial and industrial markets.
Formed under the British Columbia Society Act in 2003, BCUOMA has worked hard to continually improve collection and recycling performance in all regions of the province and across all product categories.
BCUOMA is managed by a multi-stakeholder Board of Directors with representatives from various sectors, including manufacturing, retail, local government and the public at large. BCUOMA provides incentives to recyclers to ensure that oil, filters, antifreeze, and containers throughout BC are collected and managed. The collectors pick up the materials from generators and publicly-accessible Return Collection Facilities (RCFs) across the province and deliver the materials to the BCUOMA registered processors, where they are processed to the point that they can be reused or sold as raw material inputs for manufacturing or energy products.
What do we do?
Our goal is to provide British Columbians with an eco-friendly and cost-effective way to dispose of our program materials and keep everyone safe. Each year, approximately 50 million litres of oil and 3 million litres of antifreeze are collected and responsibly managed through our program.
Why do we need BCUOMA?
There was a time when people didn't think twice about simply throwing away or dumping oil products. Today, we are more aware that irresponsible disposal methods not only harm the environment, but also waste a valuable non-renewable resource.
Each year, about 215 million litres of new oil are sold across western Canada. Most of that oil is not consumed during use and is available to be recycled.
And it's not just used oil that presents a hazard to the environment if it is improperly discarded. After you pour the oil into your car, boat, lawn mower, tractor or other motors, there is residual oil in the plastic containers
that can be recovered. Used oil filters and plastic oil containers can also be recycled into other useful products. Used antifreeze can be recycled into new antifreeze.
Through the BC Used Oil Management Association program, British Columbians can now:
Recover more used oil, filters and containers
Extend the life of a non-renewable natural resource
Provide the recycling industry with oil, plastic and steel
Decrease pollution caused by improper disposal
Reduce the amount of non-biodegradable materials in our landfills
What happens to the products collected?
BCUOMA's mandate is to ensure the responsible collection and management of the used oil, antifreeze, filters and containers required under the BC Recycling Regulation as well as provide British Columbians with an eco-friendly and cost-effective way to dispose of these materials.
For more details, please go to Product Management.
On behalf of the BC Used Oil Management Association, I am pleased to present the 2020 Annual Report.

This was a year like no other. The world as we knew it changed dramatically as the COVID-19 pandemic spread around the globe bringing a time of challenge and uncertainty that affected all industries including ours. BCUOMA worked hard to respond and adapt to the new challenges, while also continuing to deliver on our key mandate of ensuring oil and antifreeze products were responsibly managed in all corners of our province.

Throughout this challenging year, we worked closely with our collectors and processors to keep business moving while also supporting our network of public return collection facilities. During government mandated lockdowns we pivoted our messaging to focus on safe storage tips to help consumers safely store products until they could be returned to a registered facility. We also launched a Top Collector Award program to recognize the hard work of our RCF partners.

We launched two important digital upgrades in 2020; a revamped website with upgraded search capabilities and the EHC OneWindow program. This Canada-wide electronic reporting system was developed in collaboration with the other provincial used oil management programs and has allowed BCUOMA to move away from paper-based processes to an electronic system that allows us to file environmental handling charges more efficiently.

Coming off record high collection results last year, we felt confident that trend would continue into 2020. While that wasn't the case, we remain proud of our accomplishments and see this year's results as a reflection of the continued support we've received from members, collectors & processors, regional districts and municipalities and First Nations communities across the province. We also want to acknowledge the efforts of British Columbians who remained committed to ensuring BCUOMA program materials were responsibly recycled, even during a worldwide pandemic.

As we look ahead to the world returning to some semblance of normal, we do so with the knowledge that the challenges we faced in the past year have made us stronger and more committed to our goals.

Brian Ahearn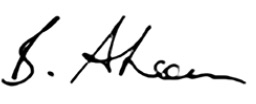 Board Chair
BCUOMA
2020 BCUOMA BOARD OF DIRECTORS
Brian Ahearn, Chair
Canadian Fuels Association
Lonnie Cole, Secretary
Filter Industry
Natalie Zigarlick, Treasurer
Public Member
Don Hetherington
Mr. Lube Canada
Dan Higgins
Canadian Tire
Sam DeGuillio
Antifreeze Industry
Vincent Gauthier
Petro-Canada Lubricants Inc.
Gord Klassen
City of Fort St. John
Wayne Marees
Chevron Canada Ltd.
LEADERS IN INNOVATION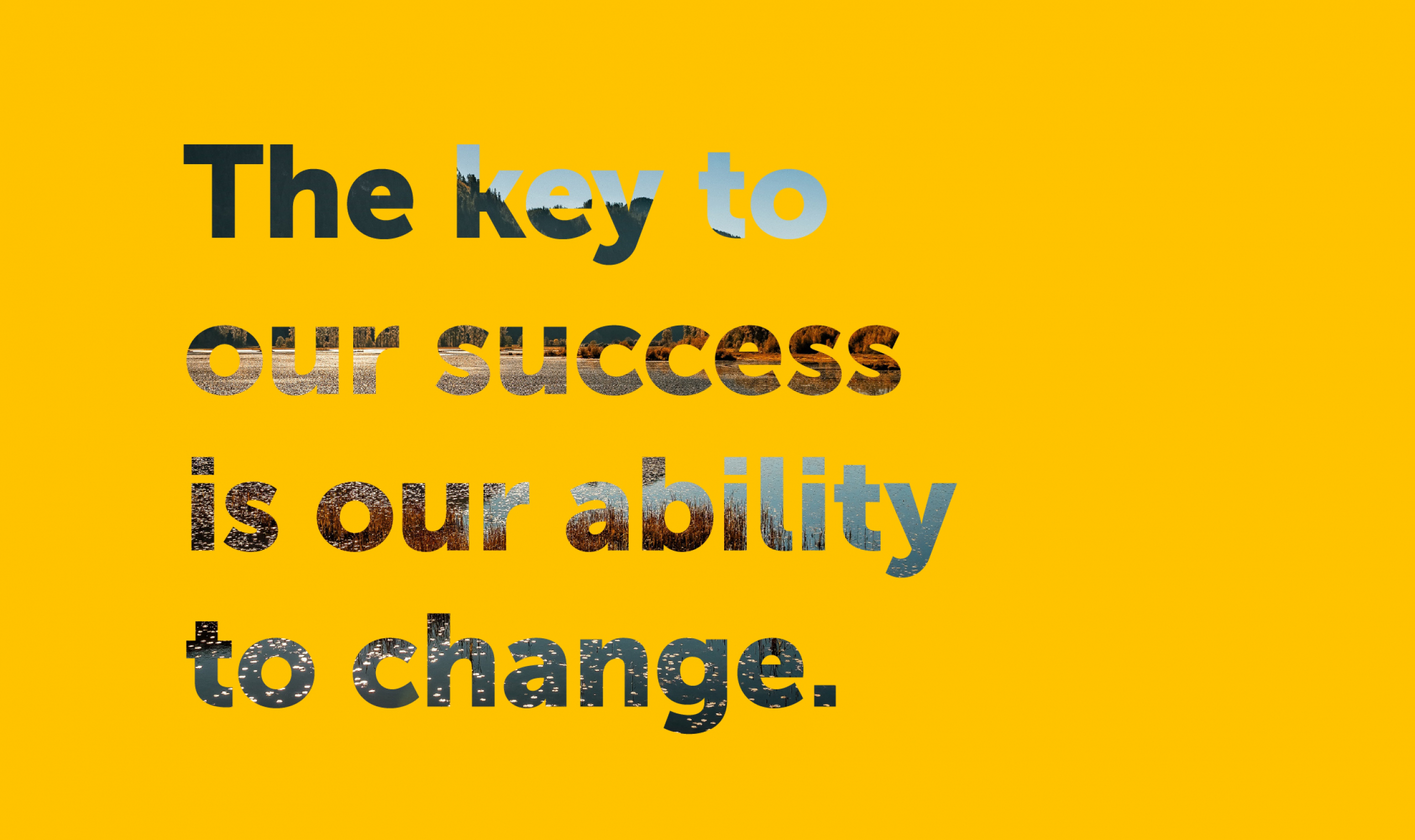 Over the course of our nearly two decades of work, the BC Used Oil Management Association has evolved in order to keep up with an ever changing world. That need to adjust was never so evident as it was in 2020 when the COVID-19 pandemic swept around the globe.
Adaptability is paramount as we work to ensure the needs and expectations of British Columbians and our key stakeholders are not only met, but exceeded. We see ourselves as leaders of innovation in the area of environmental stewardship, and here are just a few of the ways we have raised the bar:
Modified Sea Containers
BCUOMA knows that used oil collection is a messy business and one of our most important jobs is to help make it easier and safer for the owners and employees at our network of public recycling centres to accept and manage program materials.
Recently, we introduced a grant program to help facilities add or upgrade their infrastructure. Since the launch of this grant program, 84 locations have benefited from it, with most choosing to install one of our custom-built, modified sea containers as a place to hold all program materials.
These 'seacans' (as we affectionately call them) are self-contained units available in three sizes (20', 10' or 8') that come equipped with built in spill containment, collection tanks of varying sizes, and space to store drums of antifreeze and filters. They are fully branded and feature signage to help staff and the public ensure materials are responsibly collected.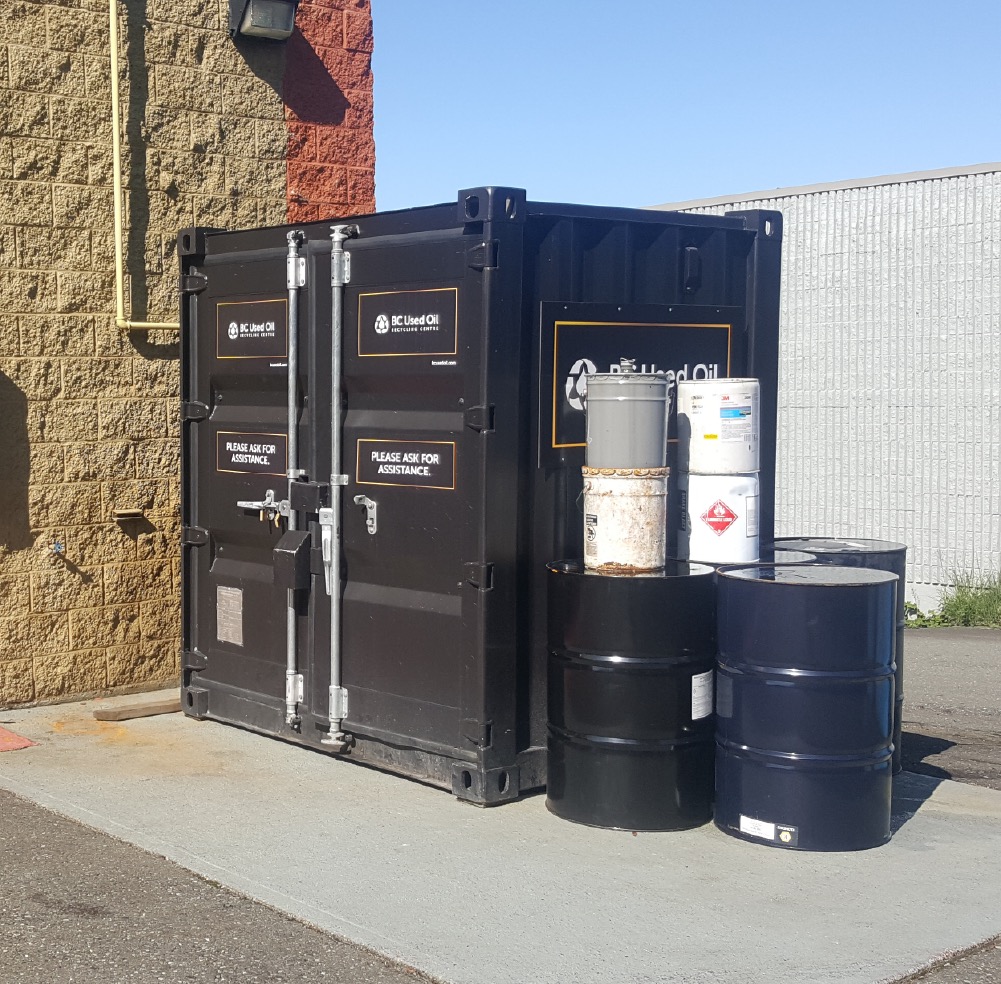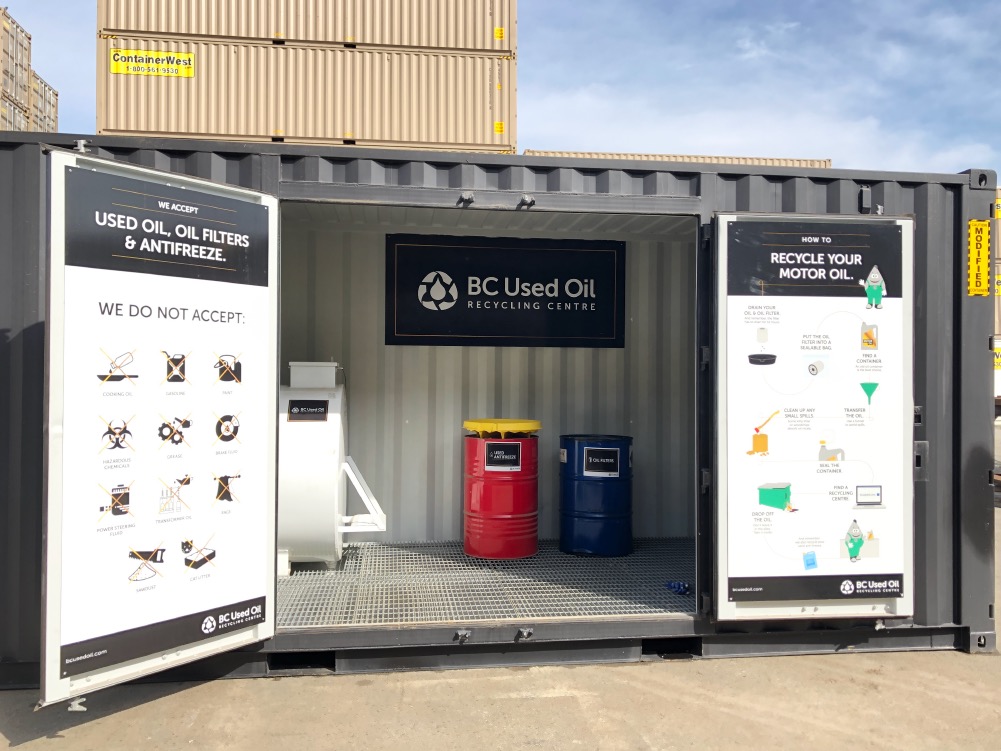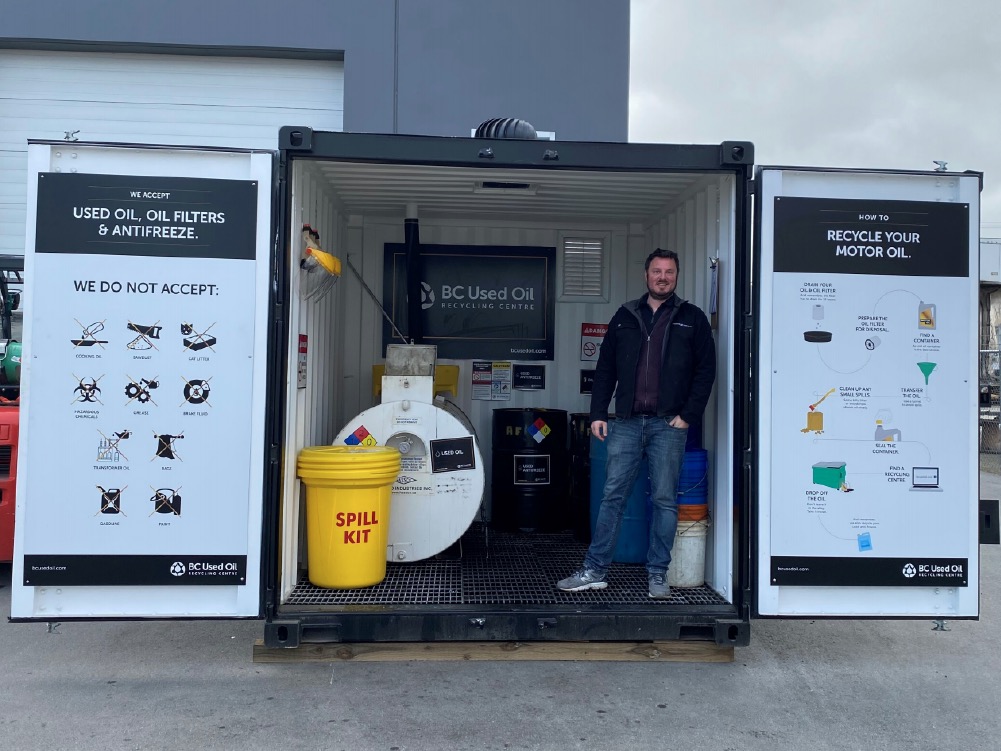 Online EHC Reporting System
After years of using heavily paper-based processes for environmental handling charge (EHC) management, BCUOMA, in collaboration with other provincial used oil management associations, began work on a contemporary electronic system that would allow these important operational requirements to be handled online.
This new, Canada-wide EHC reporting system, called OneWindow, launched in January 2020 and feedback from members to date has been very positive with many users have specifically mentioned their appreciation of the fact that all remittances have been combined. The software will continue to evolve to meet the needs of BCUOMA and our members in the years to come.

Top Collector Awards
In an effort to recognize the hard work and dedication of our network of public recycling centres, BCUOMA launched an award program in 2019, honouring the top 30 locations around the province.
Top Collectors were selected based on a number of criteria including:
the total amount of used oil, oil filters, oil containers, antifreeze and antifreeze containers collected at the location.
the total number of years participating in the BCUOMA Program.
a demonstration of continued support of BCUOMA and other recycling stewardship related programs.
Several media outlets around the province shared the results of our Top Collector Awards, gaining recognition for the individual locations as well as BCUOMA. In 2020, we added new awards for the Most Improved location as well as Long Time Service to the facilities that have been with us since our inception.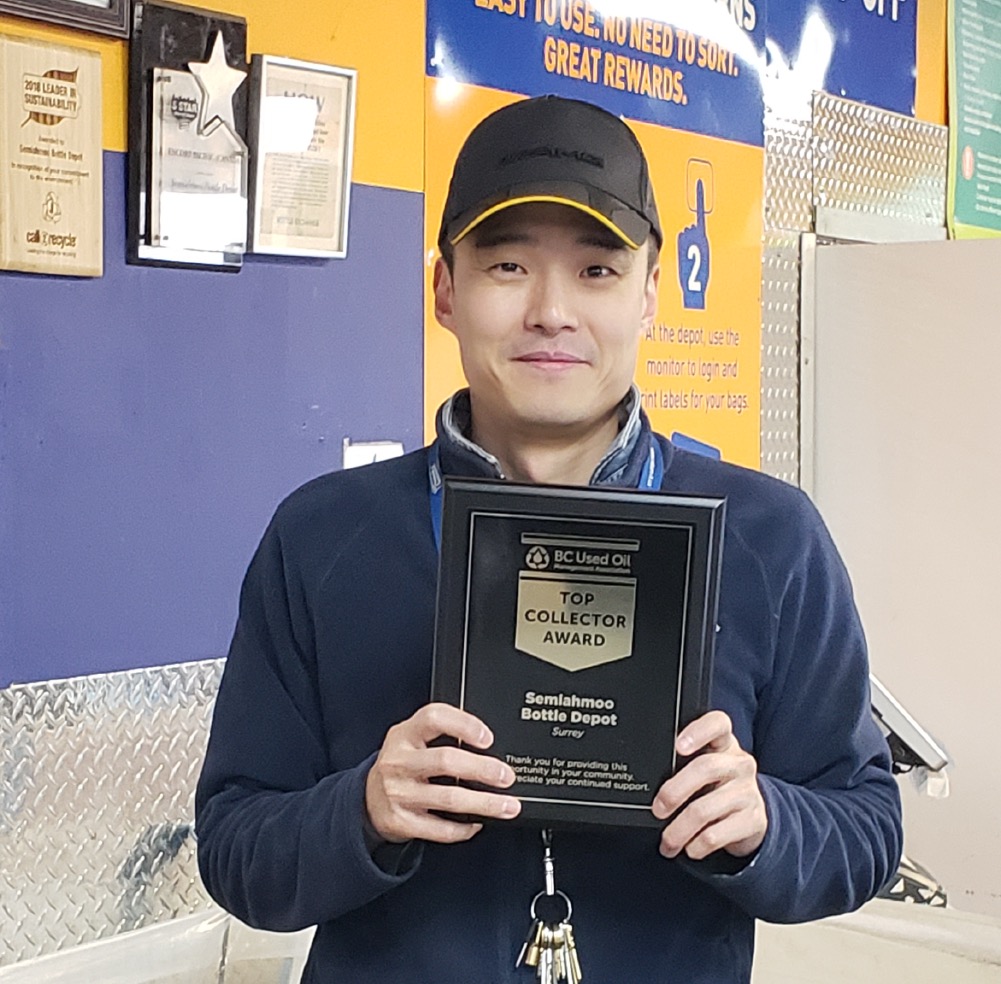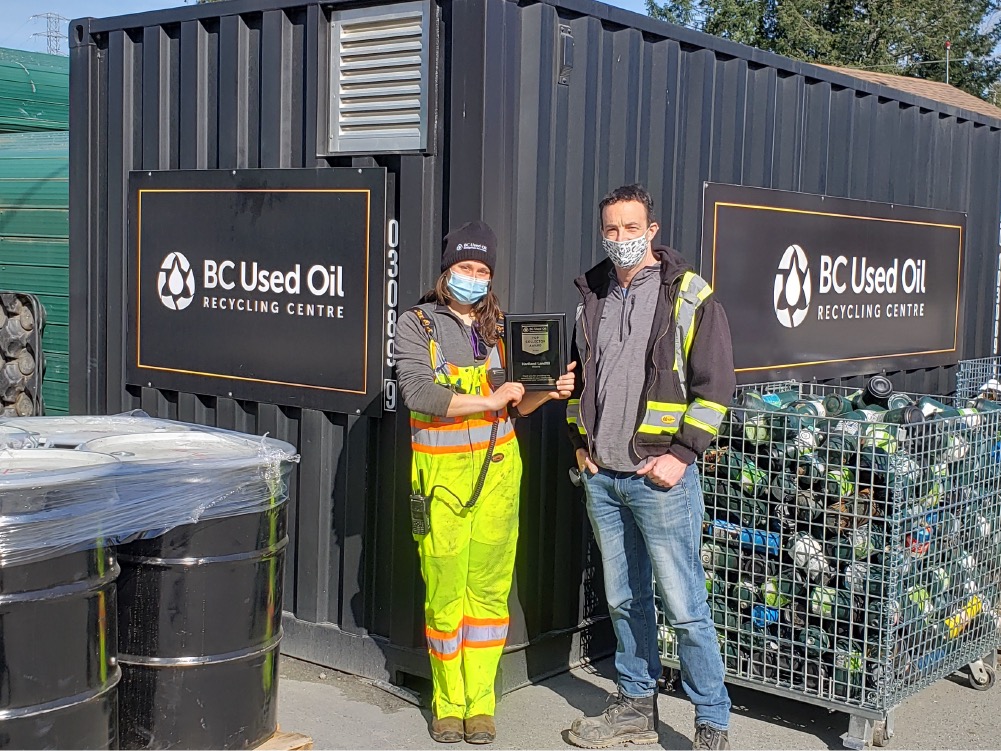 COMMUNICATIONS & PUBLIC OUTREACH
In 2020, the pandemic made it necessary for BCUOMA to implement major changes to our communication strategy and outreach. Over the course of the year, we made several key adjustments to ensure our message remained relevant and accessible, including:
Shifting advertising dollars into digital as people spent more time on devices.
Sharing messaging on how to store materials when RCFs were closed due to public health orders.
Transitioning our in-school program to virtual programming when schools were closed.
Brand Awareness Campaign
Length: 8 months, April to December
Channels included: Outdoor, digital, social and search
Estimated Reach: 98,239,723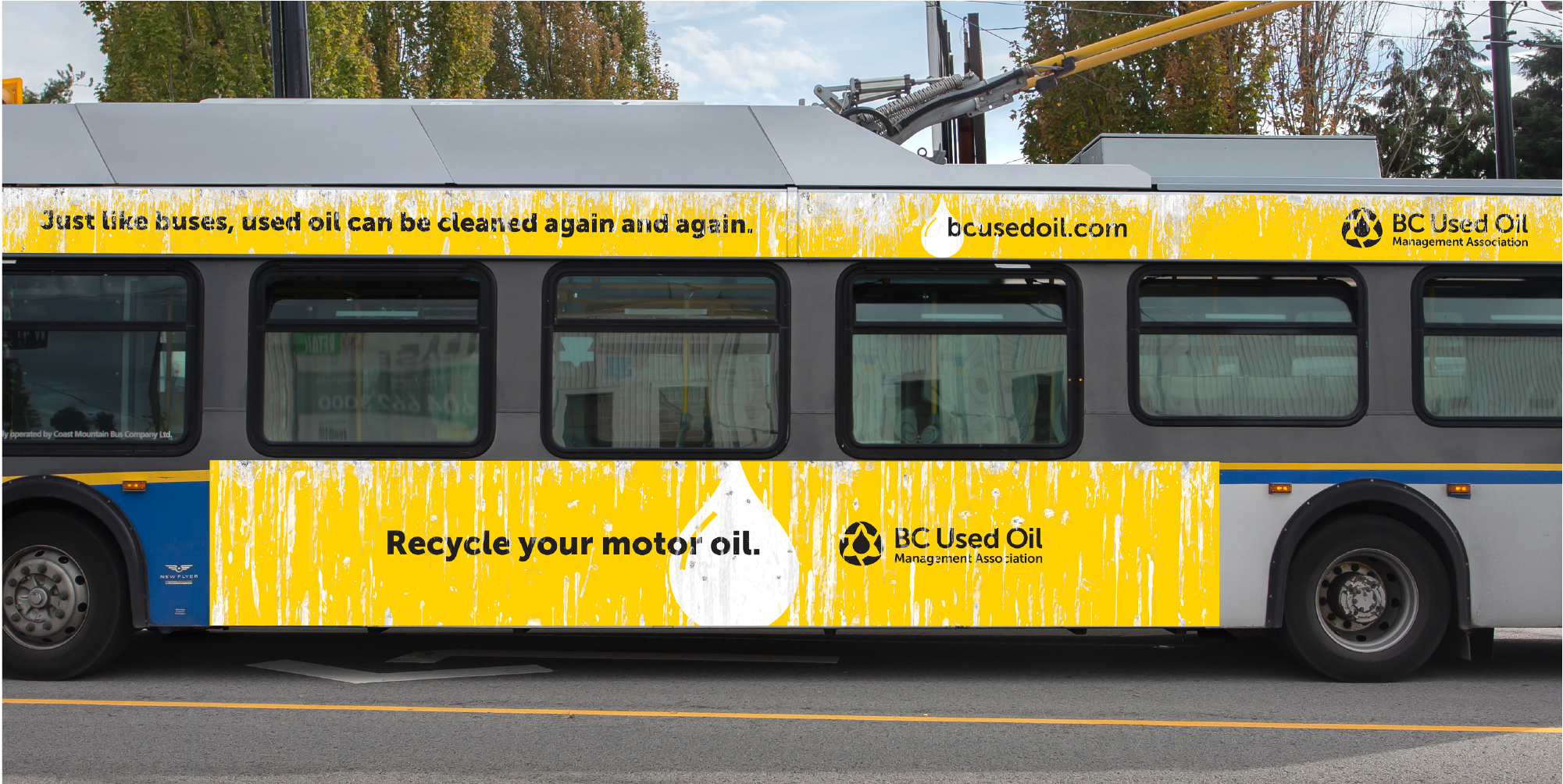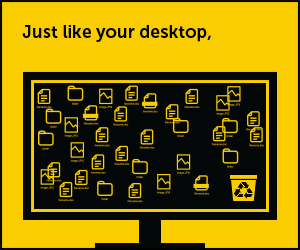 interchangerecycling.com Redesign
A full overhaul of the website was completed in late 2020. Updates included easier navigation with an improved public recycling centre search function.

Non-Traditional Campaign – How to Clean Everything with Ken
In 2020, COVID hit B.C. just as BCUOMA was in the final planning stages for our annual awareness campaign and we had to explore new and innovative ways of connecting with an audience that would be spending more time at home and online.
One of our key messages is that since used oil can be recycled and reused, it doesn't need to be thrown away when it gets 'dirty'. The "How to Clean Everything" video series gave us a chance to share the heart of our message in a fun and lighthearted way.
Inspired by YouTube cleaning life hack videos, "How to Clean Everything" is hosted by Ken, an affable auto mechanic who leads viewers through a series of jokey (but informative) instructional videos about how to clean things one would not typically turn to a mechanic for, such as makeup brushes, airpods and kitchens. Every video contains a reminder about how used motor oil can also be cleaned and reused.
The five videos connected deeply with a home-bound public and resulted in more than 3.4 million impressions. Ken will be back with more videos in 2021 and we look forward to seeing what he will clean next.
CONSUMER AWARENESS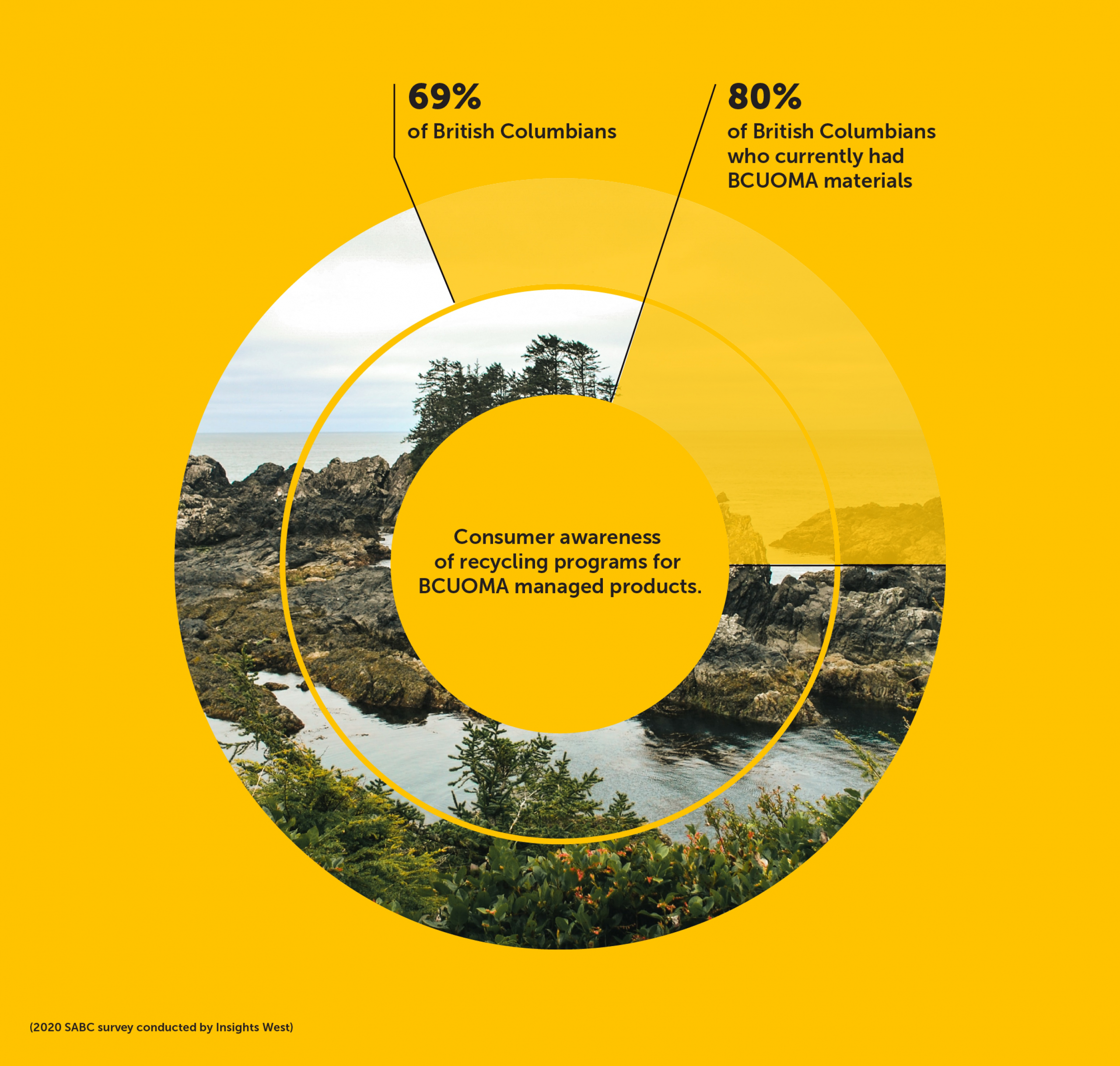 Every two years, BCUOMA participates in a Consumer Awareness Benchmark Study for all Stewardship Programs in the province. Consumers from all around BC were surveyed and the 2020 survey indicated that 69% of British Columbians who regularly change their oil/ antifreeze are aware there is a recycling program for BCUOMA-managed products.
In this same survey, a small group of participants (74) who said they currently had BCUOMA products in their household in need of recycling were asked the same question and 80% of them claimed awareness of the program.
Given the significant percentage of BC residents that already ensure their oil is recycled by having it changed by a professional, we have started shifting a more significant amount of our communications effort toward reaching those that change their own oil and need to take it to a public recycling centre.
In 2021, BCUOMA will gather information to help establish a baseline for three new performance measures for both general public and people that have program materials to return to a public recycling centre:
Program Awareness
Do you know about the BCUOMA program?
Location Awareness
Do you know where your closest recycling centre is?
Information Source Awareness
Do you know where to search for recycling centre locations?
Breaking out the awareness numbers for each group will help us identify the areas where we need to focus our messaging to make sure that everyone who changes their own oil, knows where and how to do it safely and responsibly. The baselines established in 2021 will be used to set new awareness targets as of the 2022 Annual Report.
COLLECTION EVENT SUMMARY
The COVID-19 pandemic had a significant impact in the number of community collection events held by Regional Districts, municipalities and other groups. BCUOMA continued to offer grants for these important events, and six were awarded in 2020.
September 12, 2020 – Kaslo
September 19, 2020 – Creston
September 20, 2020 – Castlegar
September 26, 2020 – Silverton
September 27, 2020 – Nakusp
October 3, 2020 – Chilliwack
We will continue to focus on working with our community partners to hold more of these events in 2021.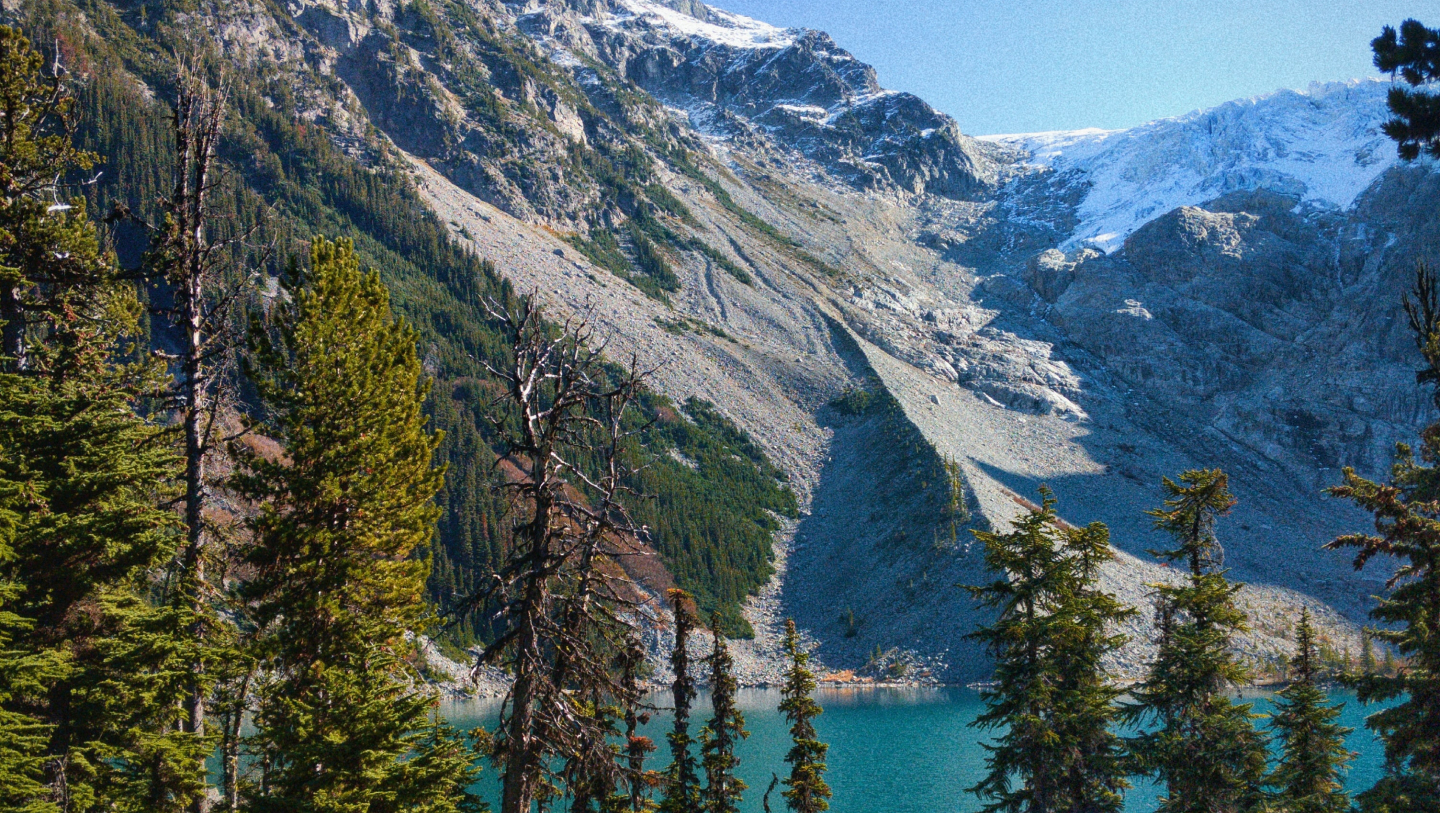 KEY COLLABORATIONS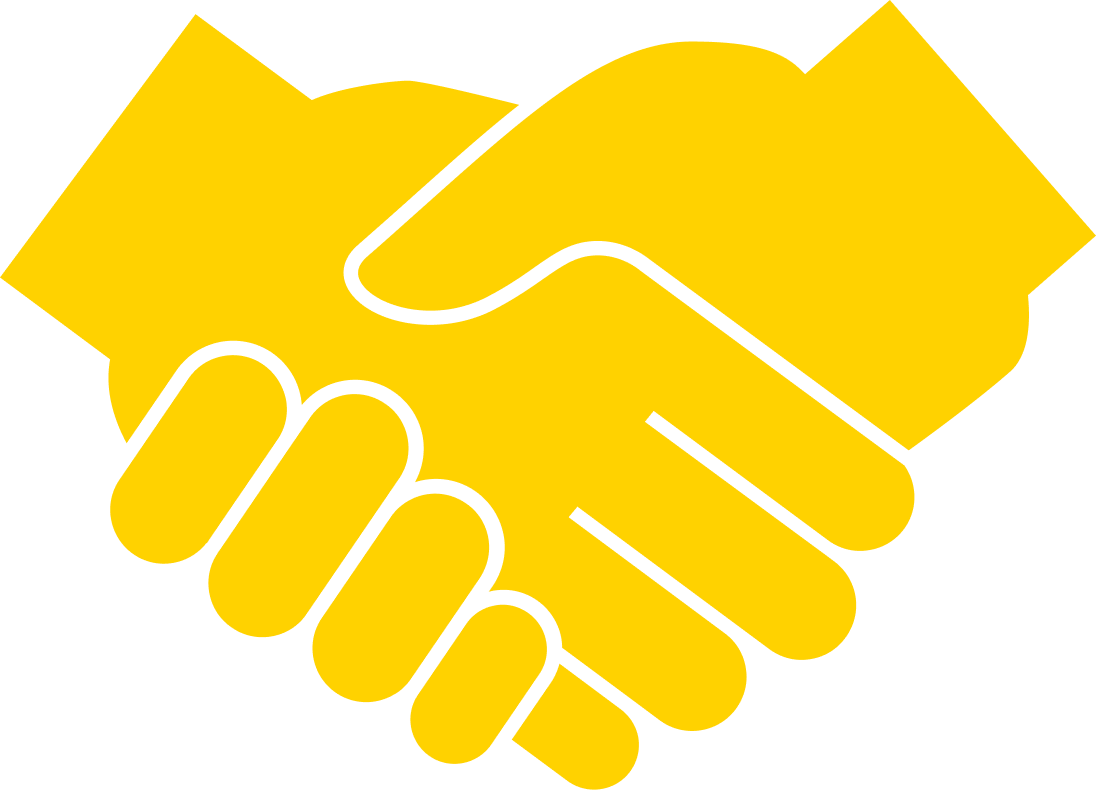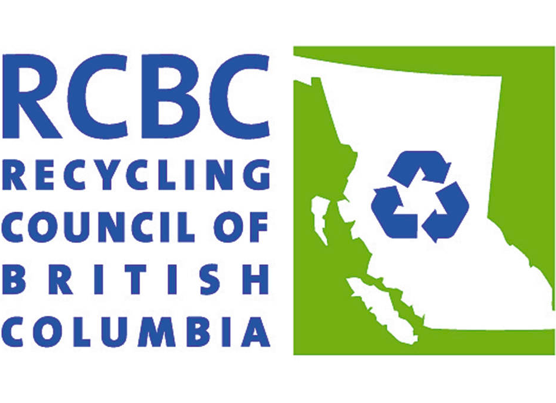 Recycling Council of BC
As part of BCUOMA's commitment to ensuring access to key program information at all times, BCUOMA participates with other stewardship programs to fund the Recycling Council of BC's hotline and Recyclopedia database. Consumers looking to have their recycling questions answered can call the hotline at 1-800- 667-4321 or download the Recyclepedia app.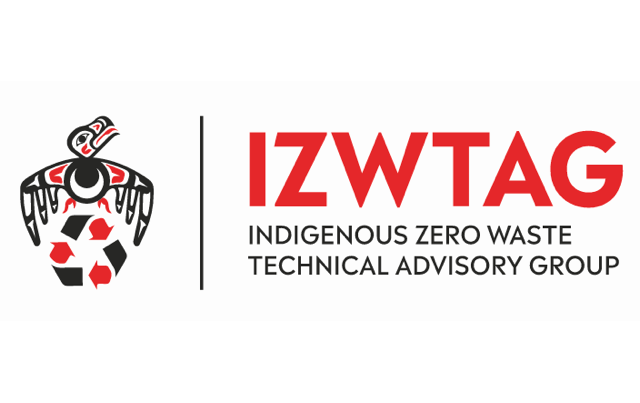 Indigenous Zero Waste Technical Advisory Group (IZWTAG)
BCUOMA became the first Associate Member of the Indigenous Zero Waste Technical Advisory Group (IZWTAG), a non-profit society dedicated to supporting zero waste systems in all First Nation communities in BC, last year. In 2020, BCUOMA continued to work with IZWTAG to ensure used oil and other BCUOMA program products were safely managed in First Nation communities and responsibly recycled.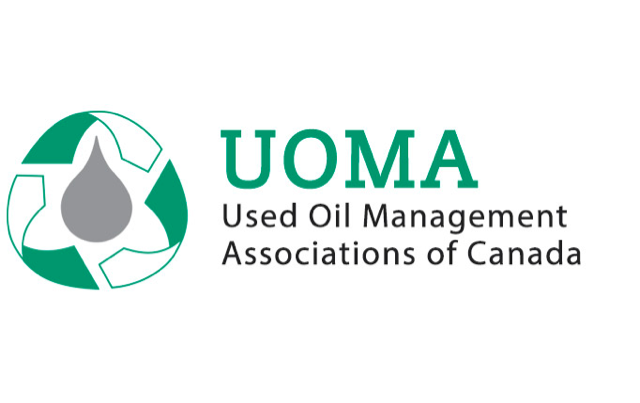 Provincial Programs (UOMAs)
BCUOMA works closely in partnership with all of the other provincial programs through the national working group, the National Used Oil Material and Antifreeze Advisory Council (NUOMAAC) which coordinates the Canada-wide used oil and antifreeze materials recycling effort and encourages national standards. The UOMA industry-led stewardship program model works in close collaboration to achieve environmental, economic and socio-economic successes across Canada.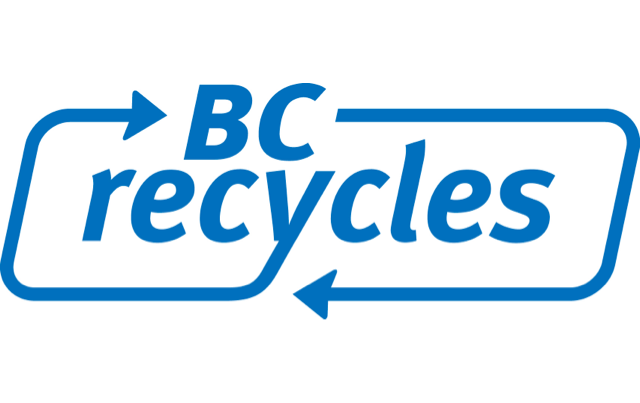 BC Stewardships (SABC)
BCUOMA is an active member of the Stewardship Agencies of British Columbia (SABC), an informal alliance of industry product stewardship organizations. SABC works with government, service providers and other stakeholders to ensure B.C.'s extended producer responsibility model is successful and cost effective.
COLLECTION NETWORK PERFORMANCE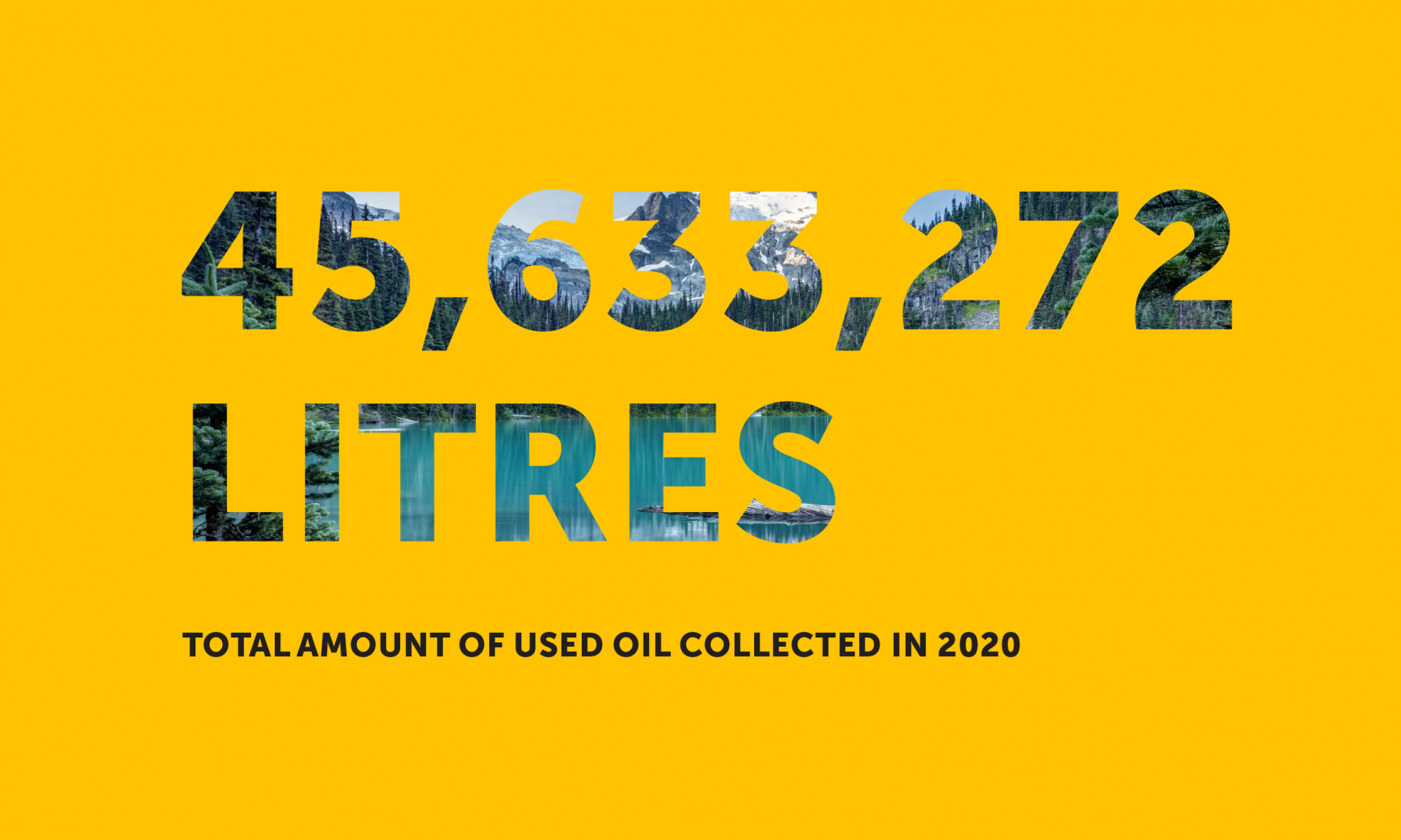 BCUOMA is a mature product stewardship program with material collection spread across a large network of generators across 11 designated zones in BC. Many of these generators change oil, filters, and antifreeze commercially and then call the collectors in the BCUOMA program for pick-up. Any approved end use must be environmentally sound and be in compliance with environmental requirements.
Of all the used oil and antifreeze collected in BC, most (95%) is collected from commercial facilities such as service stations, lube shops and large commercial operations (e.g., mining, forestry and agriculture). These commercial facilities are typically serviced by a registered BCUOMA collector that has a service agreement with that facility.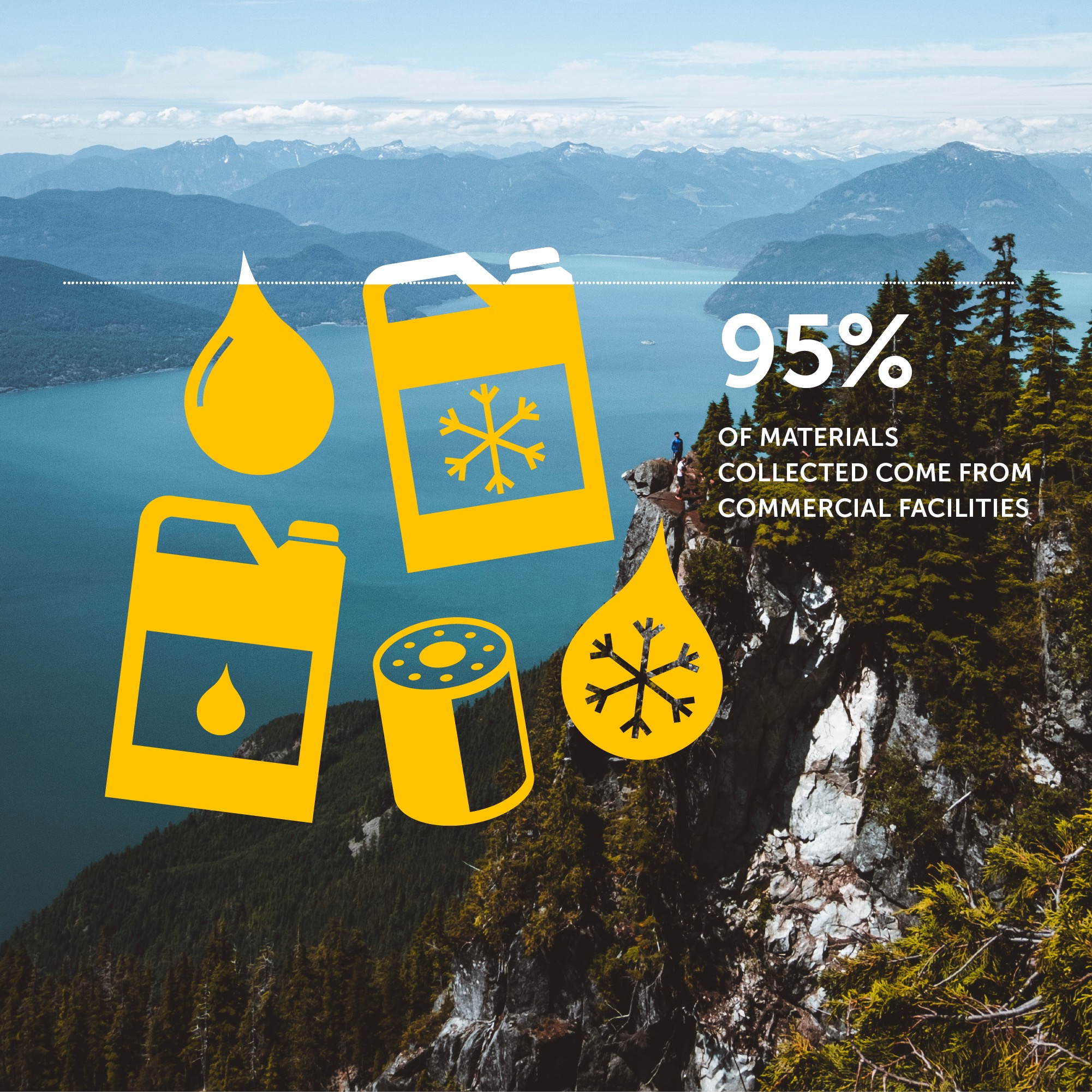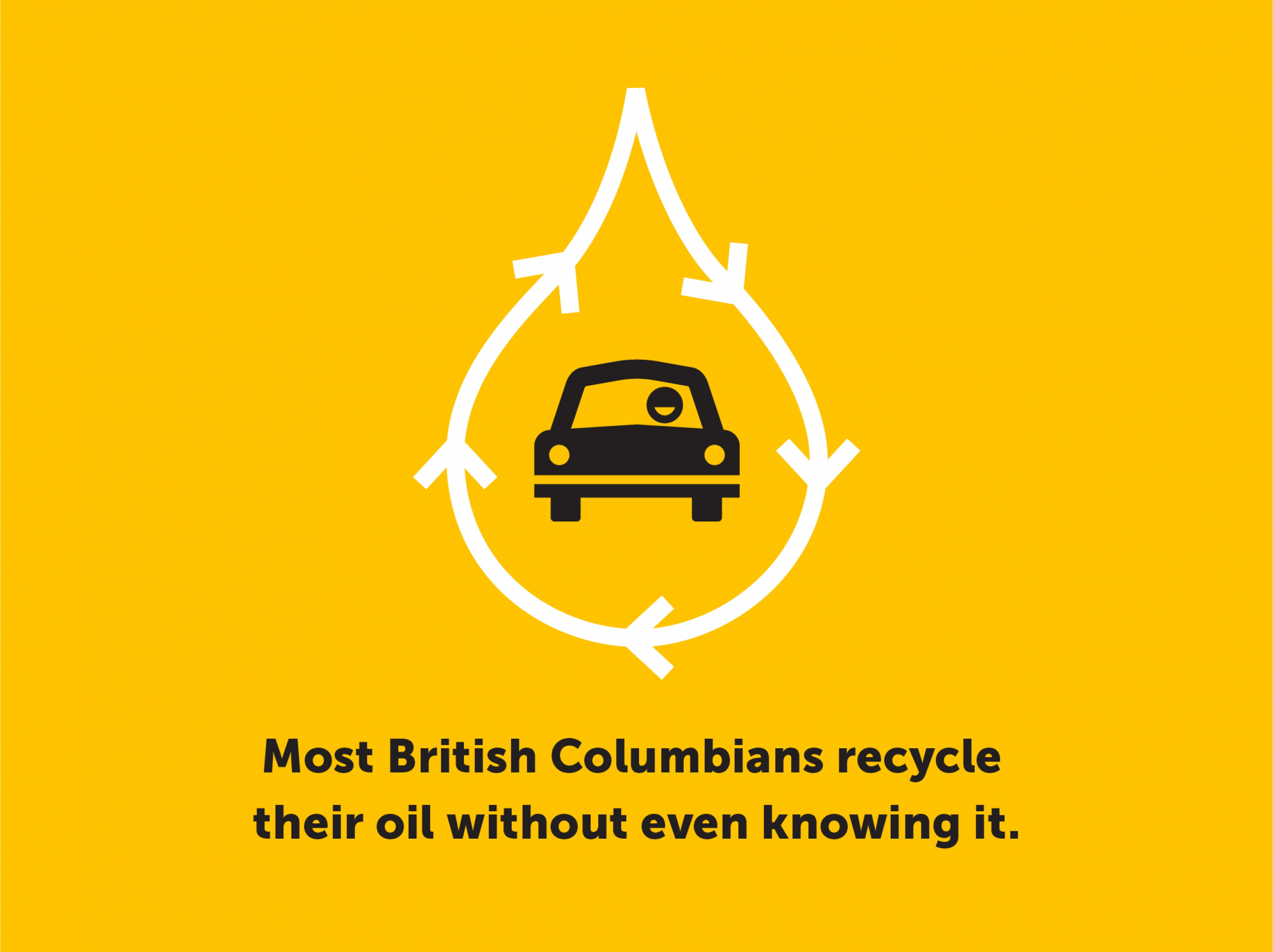 If you get your oil changed at a lube shop or by a mechanic, you are already doing your part to make sure your used oil stays out of the ecosystem, because all lube shop oil gets collected and responsibly recycled by our registered processors.
For "do it yourselfers", BCUOMA has a province- wide network of registered public recycling centres that provide consumers with free access for recycling of program materials.
Only a small amount —approximately 5% of the total used oil and antifreeze collected in BC— comes from consumers that change their own oil/ antifreeze or small commercial operators that choose to use the free consumer drop-off system.
In 2020, there were 273 publicly accessible recycling centres located in high traffic retail locations, industrial sites, multi-material private depots (bottle depots) and local government recycling/landfill sites.
| Year | Number of Facilities |
| --- | --- |
| 2020 | 273 |
| 2019 | 274 |
| 2018 | 291 |
(Note: Appendix 'A' lists the RCFs by community.)
94 per cent of British Columbians currently have reasonable access to recycling location. BCUOMA continues to work with recycling centre operators to ensure all public facilities are safe and secure by providing grants for new infrastructure such as modified sea containers with spill containment, collection tanks and consumer friendly signs. A total of 32 Infrastructure Grants were awarded in 2020.
Given the low product volumes represented by consumer collection, accessibility to recycling (see below for more detail) is considered a more meaningful BCUOMA performance measure for this stream than the level of product recovery.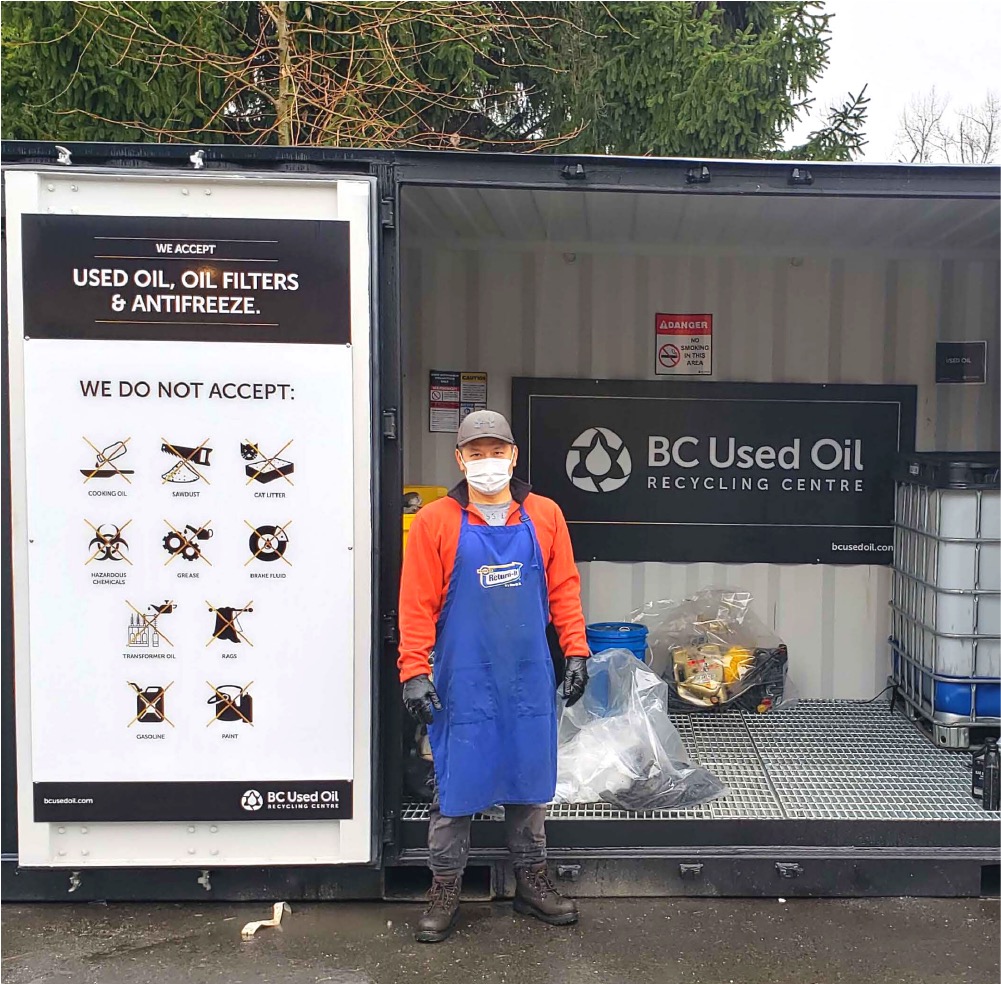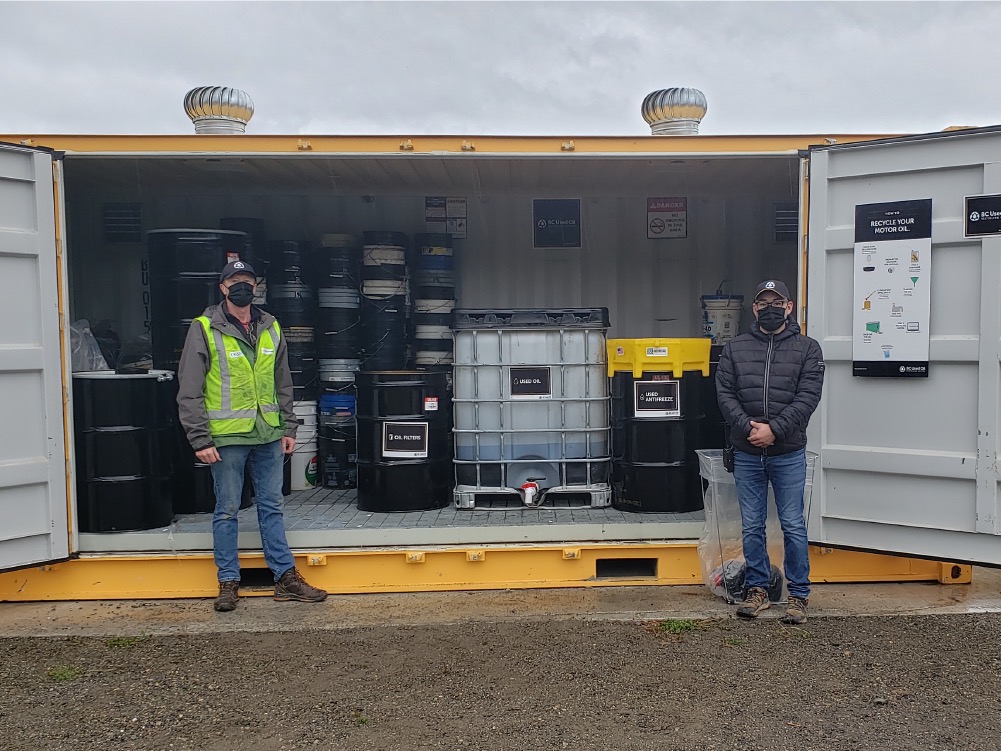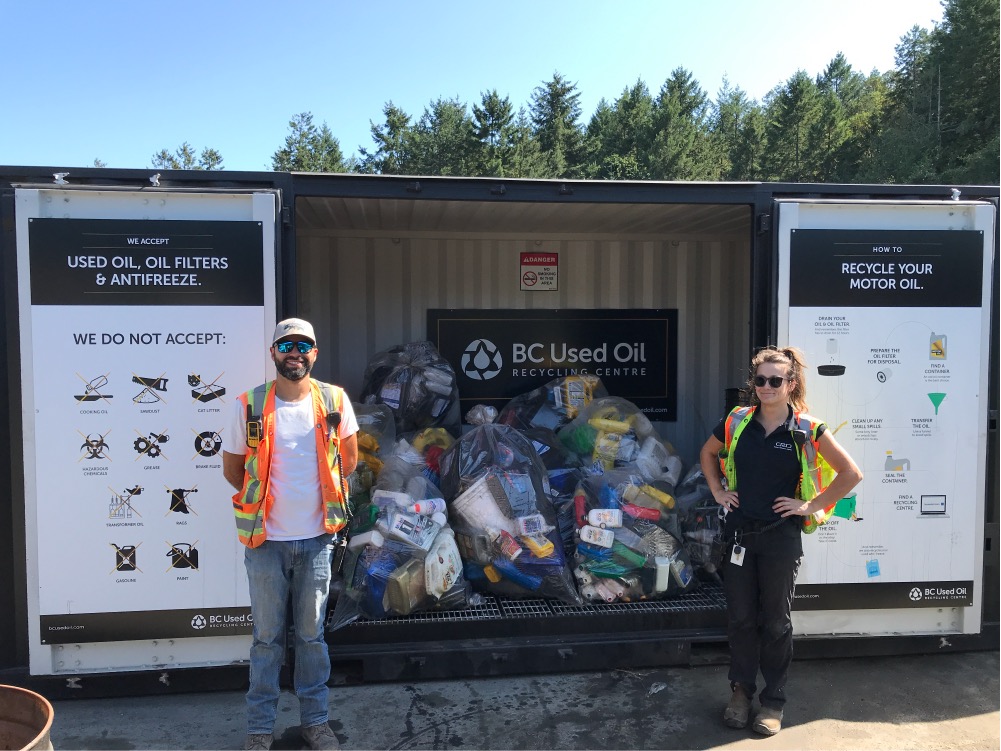 ACCESSIBILITY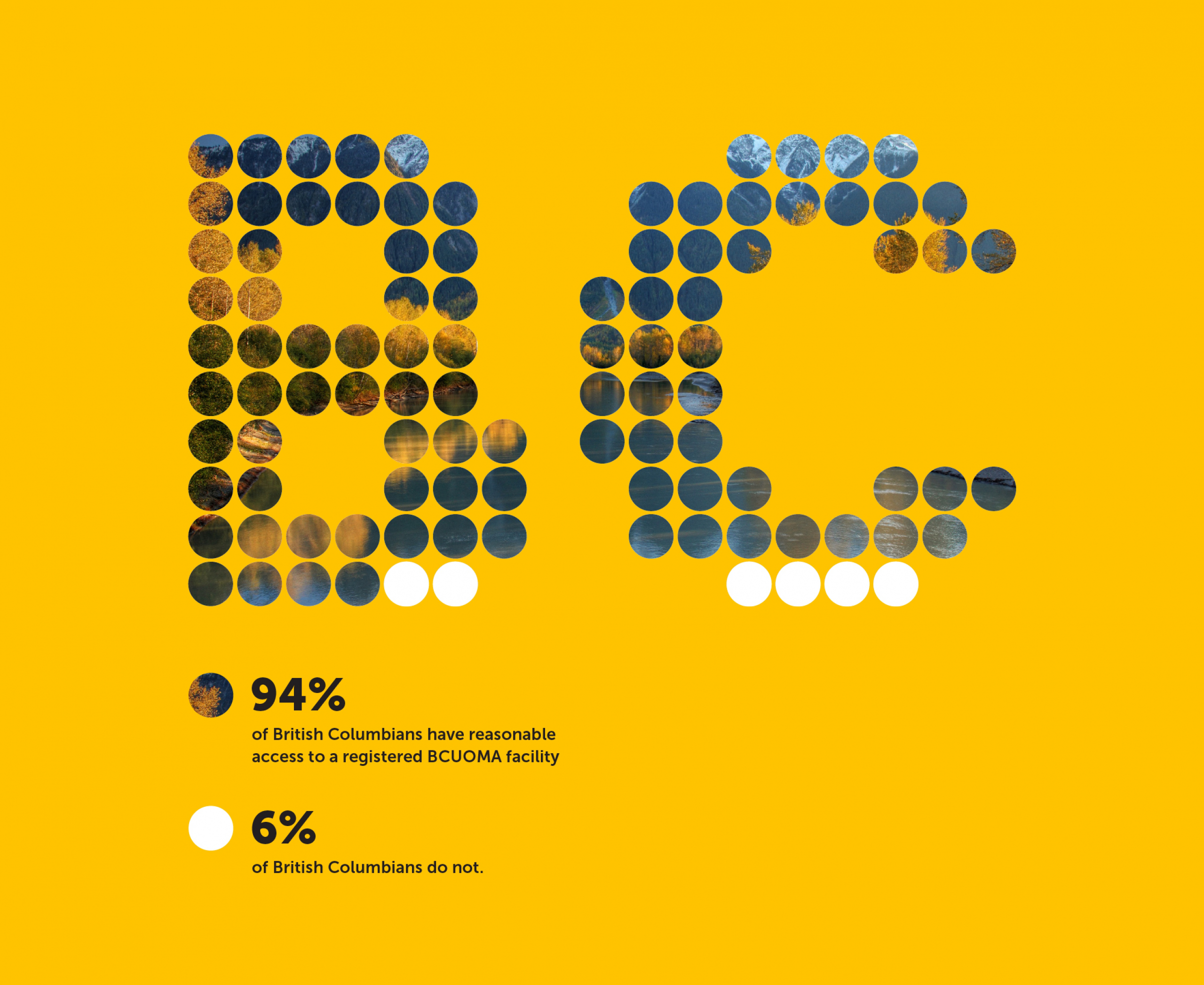 BCUOMA is working to continuously improve access in more remote locations, and refine the methodology and data set used to measure accessibility in these areas.
In 2020, BCUOMA has distinguished Regional District Electoral Areas, the unincorporated areas outside of municipal boundaries, from the adjacent communities and measured their access to BCUOMA facilities separately.
As a result, BCUOMA now reports that 94% of British Columbians have access to BCUOMA registered facilities, down from the 99% reported under the previous methodology.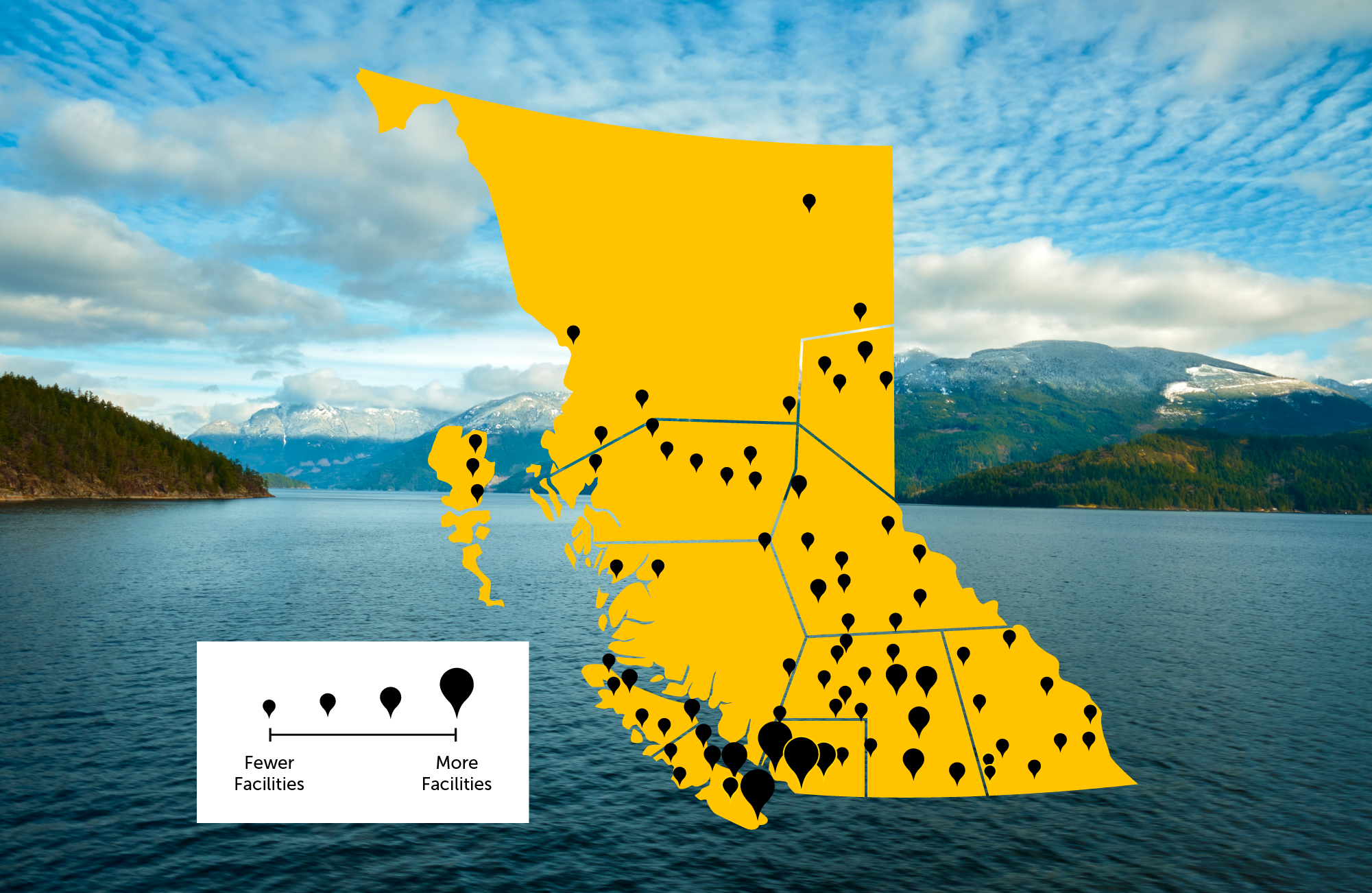 CAPTURE RATES IN 2020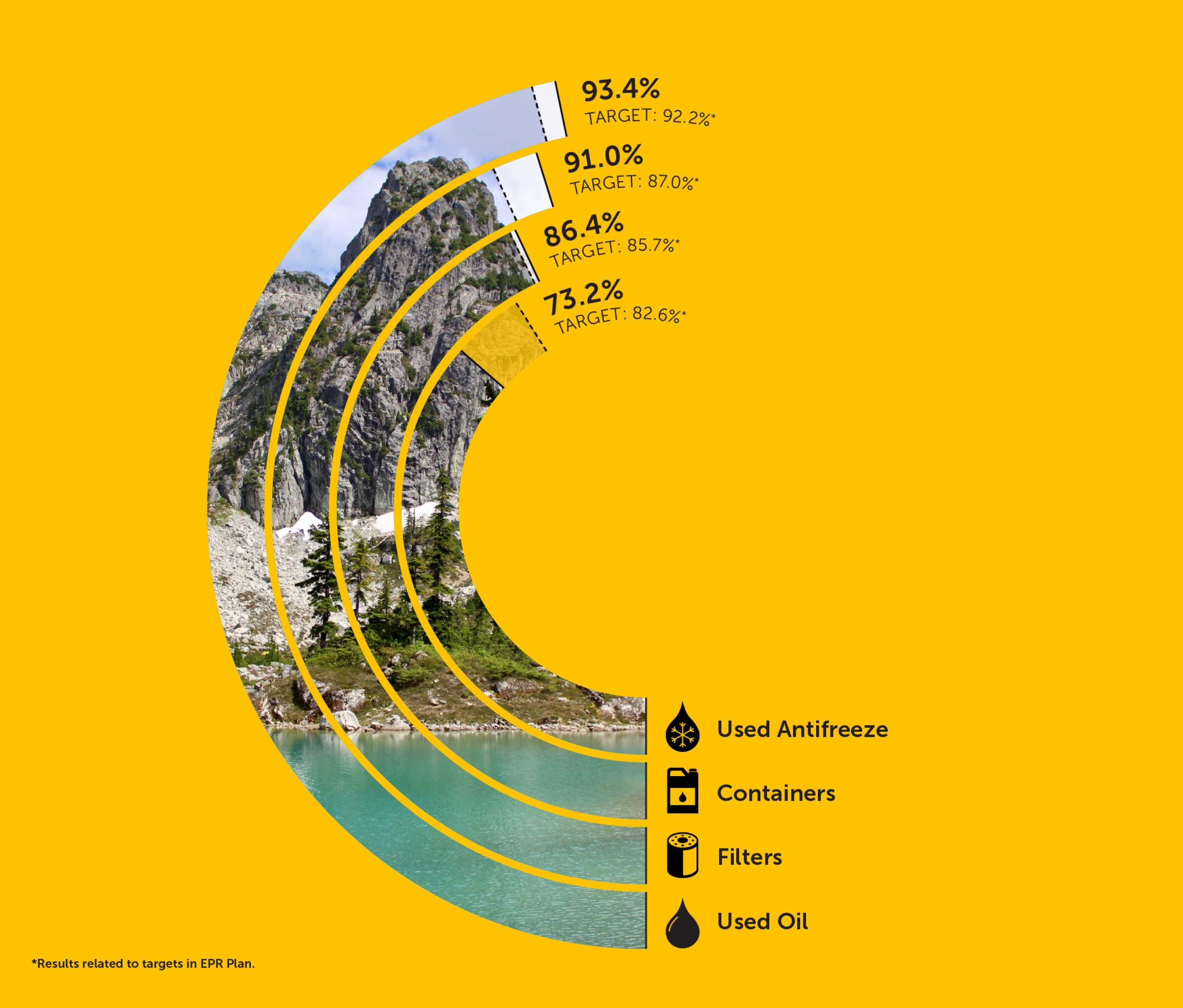 PRODUCT COLLECTION
BCUOMA is a mature stewardship program and our product collection numbers have always been stable and consistent. As such we have identified collection targets that are much higher than the 75% outlined in the Recycling Regulation. In 2020, despite the pandemic we were able to exceed those targets for two program materials while just falling short on two others.
The pandemic had an impact on both sales and collection results in 2020 with absolute collection and product sales decreasing for all products.

Used Oil
(millions of litres)

Filters
(millions of units)

Containers
(millions of kilograms)

Used Antifreeze
(millions of litres)

Sold (2020)

91.7

6.3

1.9

12.1

Consumed in use

26.9

n/a

n/a

9.1

Repurposed

15.9

n/a

n/a

n/a

Available for collection

48.9

6.3

1.9

3.0

Collected

45.6

5.7

1.6

2.2

Capture rate

93.4%

91.0%

86.4%

73.2%
Only a portion of every litre of oil and antifreeze sold is available for recovery because an estimated 29.3% of the oil and 75% of the antifreeze is consumed during use and an estimated 15.9 million litres of oil not consumed in use, is re-purposed each year and is not available for collection.
For more collection results, see Summary of 2020 Collection & Consumer Returns.
END FATE FOR PRODUCTS COLLECTED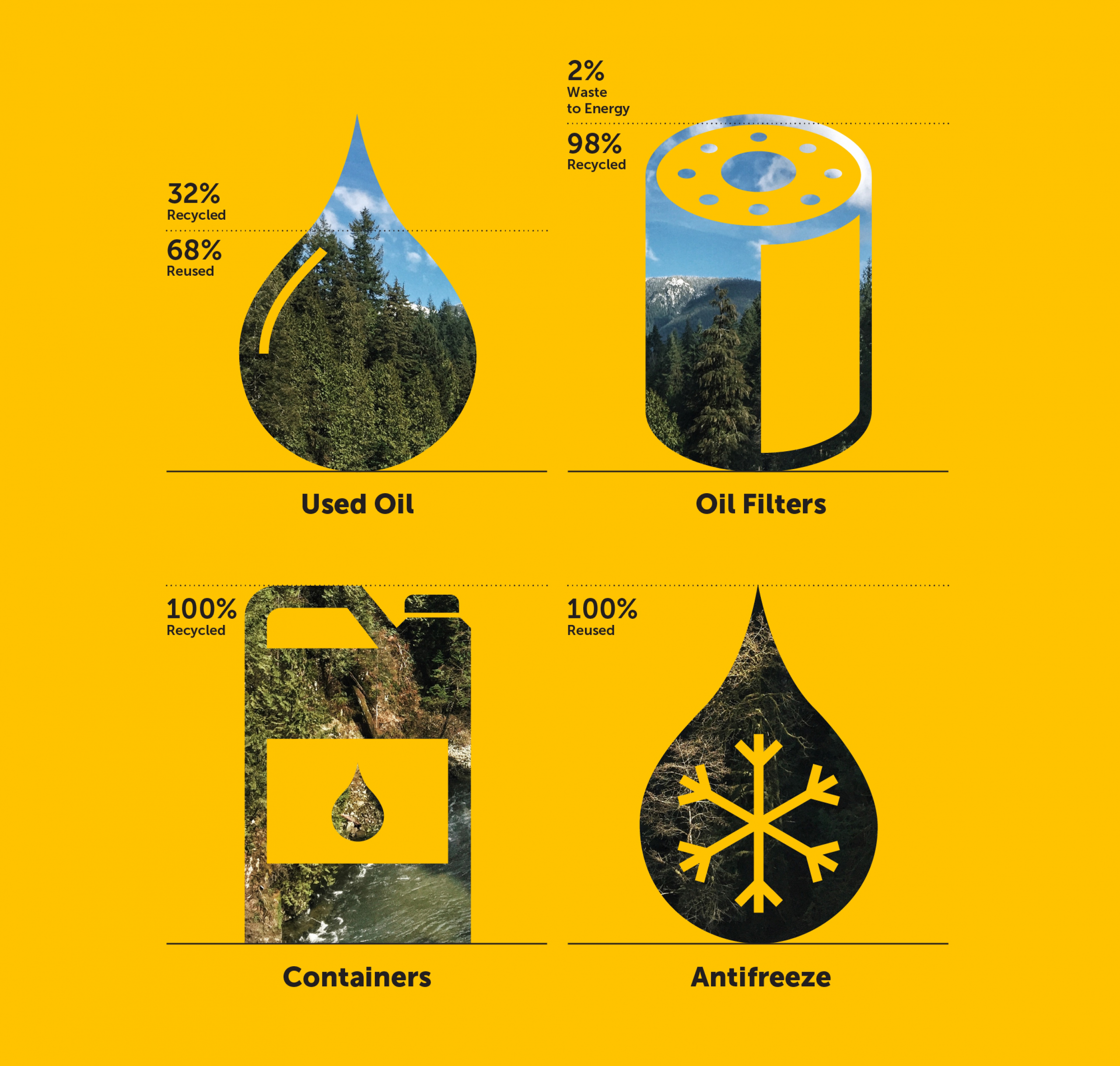 PRODUCT MANAGEMENT
Collected products are managed in accordance with the Pollution Prevention Hierarchy as outlined in the BC Recycling Regulation.

---
Used Oil
In 2020, most of the used lubricating oil that was collected was refined and reused as new lubricating oil. The remaining portion of used oil that was collected was processed and sold as new product. The portion of used lubricating oil that is not collected by BCUOMA Registered Collectors was largely re-purposed by the owner for other uses as identified in the 2020 Un-accounted Used Lubricating Oil Study, including use in shop heaters which are supported and regulated by the Ministry of Environment.

---
Used Oil Filters
Metal filters are collected and recycled into other metal products. Paper filters that cannot feasibly be recycled are managed so a portion of the inherent energy can be recovered.

---
Used Oil & Antifreeze Containers
Plastic and metal containers are recycled into new plastic and metal products. BCUOMA are proud of the fact that both used antifreeze and empty containers are processed and recycled at facilities right here in British Columbia. Managing these products locally provides significant environmental, economic and social benefits that support our transition to a more sustainable and Circular Economy.

---
Used Antifreeze
Antifreeze previously sold as an antifreeze product is refined and reused as an antifreeze product. Antifreeze processors are already actively involved in processing used antifreeze to the point where an additive package can be included and the recycled antifreeze can again be sold as automotive.